I've been busy getting ready for the Alt Press Fest (happening the first weekend of July at the Salt Lake Main Library!), so updates will probably be a bit sporadic for the next little bit. I did have time to draw a bunch of wrestlers, and I promise there will be more to come. It's been at least 10 years since I really followed wrestling, but these dudes are so goddamn much fun to draw! I asked people on Facebook who their favorite wrestlers of all time are, and I drew a bunch of people's requests. If I didn't get to your favorite this week, hopefully I'll post it next week!
My sister Jaimie requested Mankind, and wouldn't you know it, I had just finished drawing Mankind when I posted about it on Facebook. He's one of my favorite wrestlers of all time too, especially during the days of Mr. Socko. I highly recommend watching him visit Vince McMahon in the hospital on YouTube and watching some of his tag team matches with The Rock, because that shit is hilarious.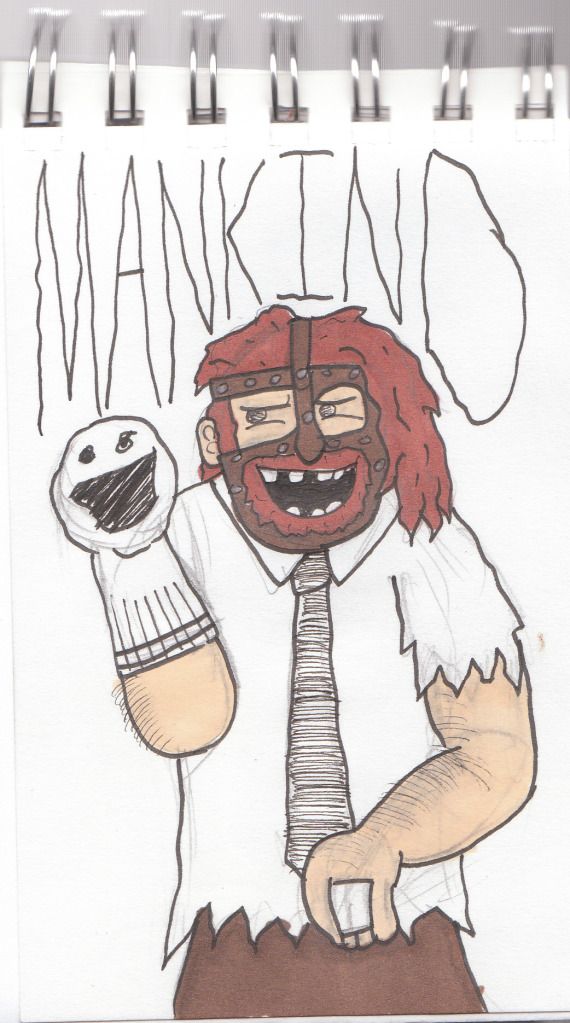 No one requested him, but I drew Vader. He was on a few episodes of Boy Meets World. That was weird.
My co-worker Gavin suggested Jake The Snake, who, weirdly enough, also appeared on Boy Meets World. I also saw Jake the Snake wrestle at the State Fair with my dad and Jaimie in 1998 or 1999. It was depressing.
My friend Jerome suggested Rey Misterio, Jr. Since he included the "Jr." part of his name (which he stopped using when he went to the WWF), I decided to draw Rey in his pre-steroid days as he appeared in WCW. He's also one of my nephew's favorite wrestlers--we went to the Auto Show as a family one time so we could get Rey's autograph for him.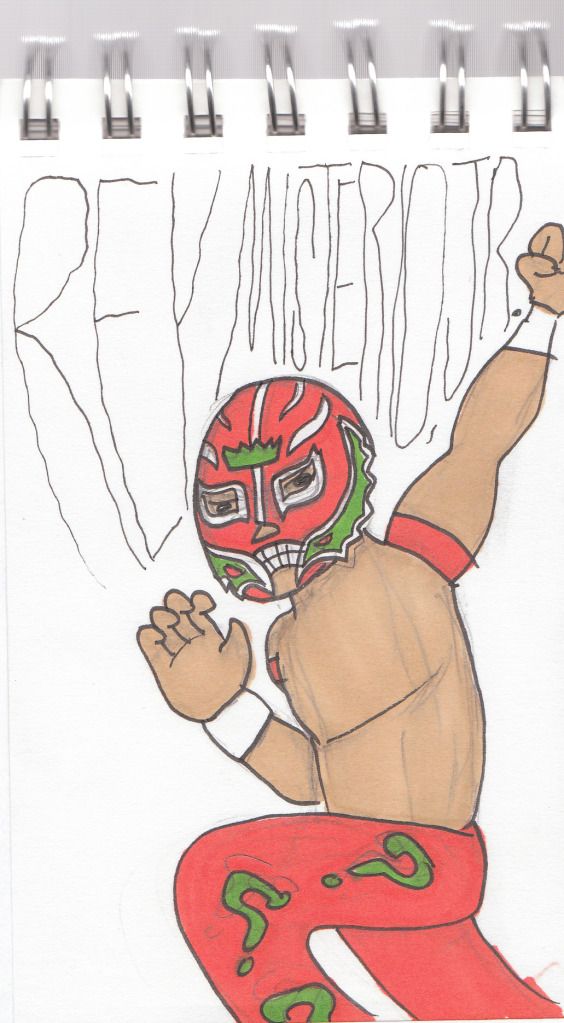 Drew suggested Bam Bam Bigelow, which I was more than happy to draw because Bam Bam was awesome. Dude was gigantic and could still do moonsaults and stuff. Also, he got severly burned saving some kids from a fire one time. He's dead now.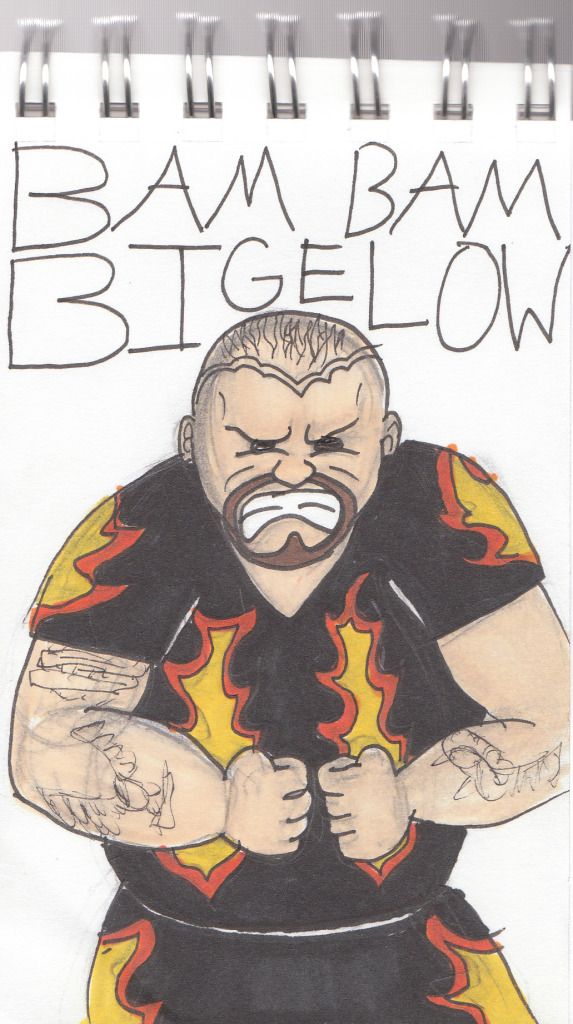 Alex suggested Sting, which is awesome because I've been meaning to draw Sting forever. He's another one of my childhood favorites--my sister actually dressed up as the nWo Wolfpac version of Sting for Halloween once. Here he is in his early '90s garb.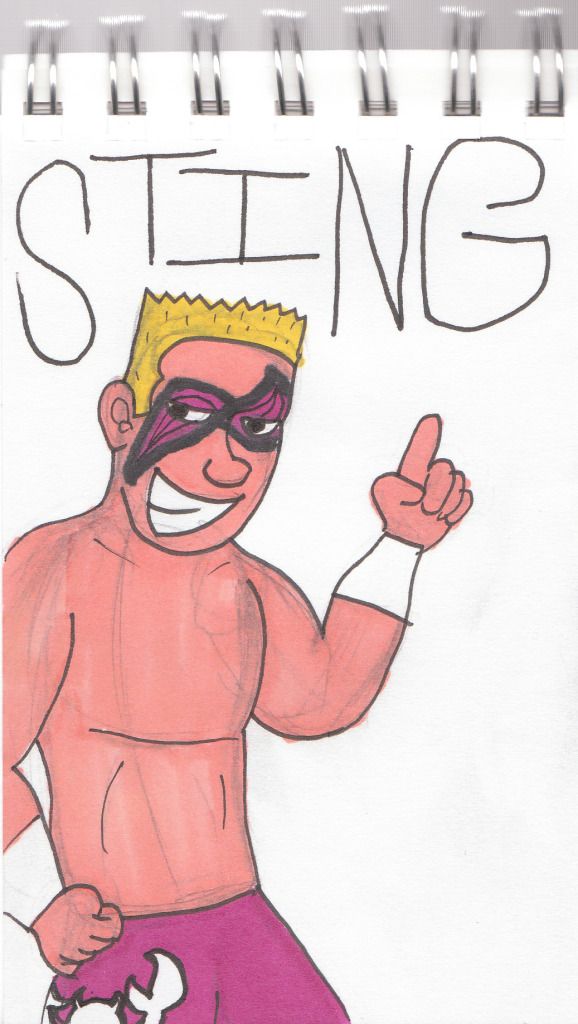 James suggested George "The Animal" Steele. I don't think I ever actually saw him wrestle, but he does appear in one of my favorite movies of all time: Ed Wood. Also, I'm always happy to draw weird, fat, hairy dudes.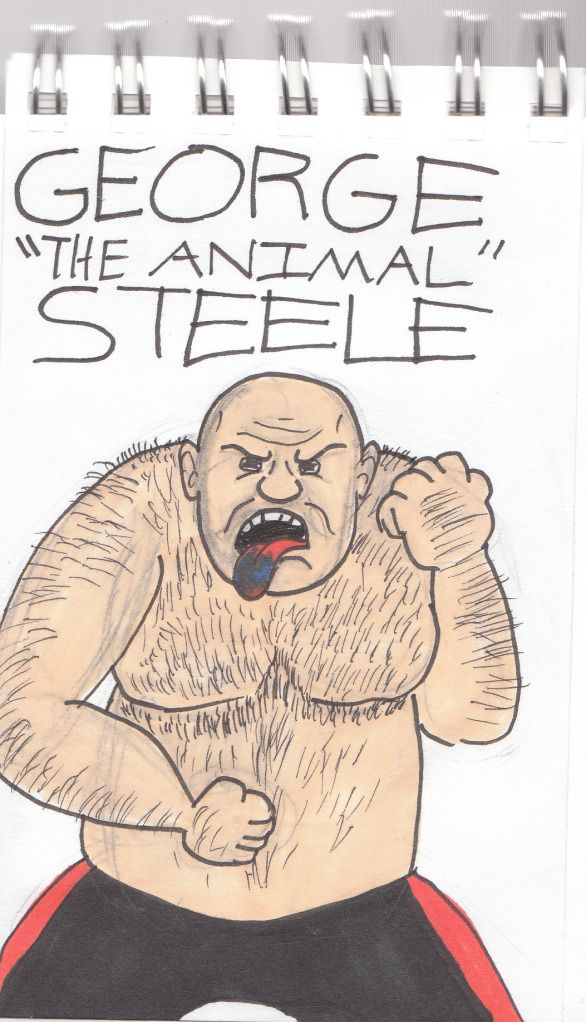 And finally, Dylan suggested the WCW version of Scott Hall, but I totally forgot about that until I started coloring him in, so here he is as Razor Ramon. Another one of my childhood favorites, and I still think he has one of the coolest finishing moves ever.